Do believe it! Olivia Pope (Kerry Washington) of Scandal is all-natural and has never used relaxers on her hair!
As everyone watched each new season of Scandal, one couldn't help noticing Olivia Pope (played by Kerry Washington) and her evolving African American hairstyles.  During the return of Season 3 of the "Scandal"ous TV drama, Kerry Washington's hairstylist dished out how the best-dressed star keeps her locks healthy, despite the demands that surround a celebrity's lifestyle.  However, there is a growing trend of African American Hollywood actresses who seem to be loving the natural life and living it well.  Kerry Washington is one of them and gives us some of the best examples of protective hairstyles for black women.
Excuse my ignorance for just a moment but I'd like to make an announcement.  The former star of Save the Last Dance has never once had the creamy crack touch her hair.  She's all-natural!  It's hard to tell when you have watched multiple seasons of straight and sleek hairstyles, which closely resemble Judy Smith's, the real woman behind Scandal.
During Season 1, Washington sported a sophisticated style along with sophisticated hair. Although not relaxed, the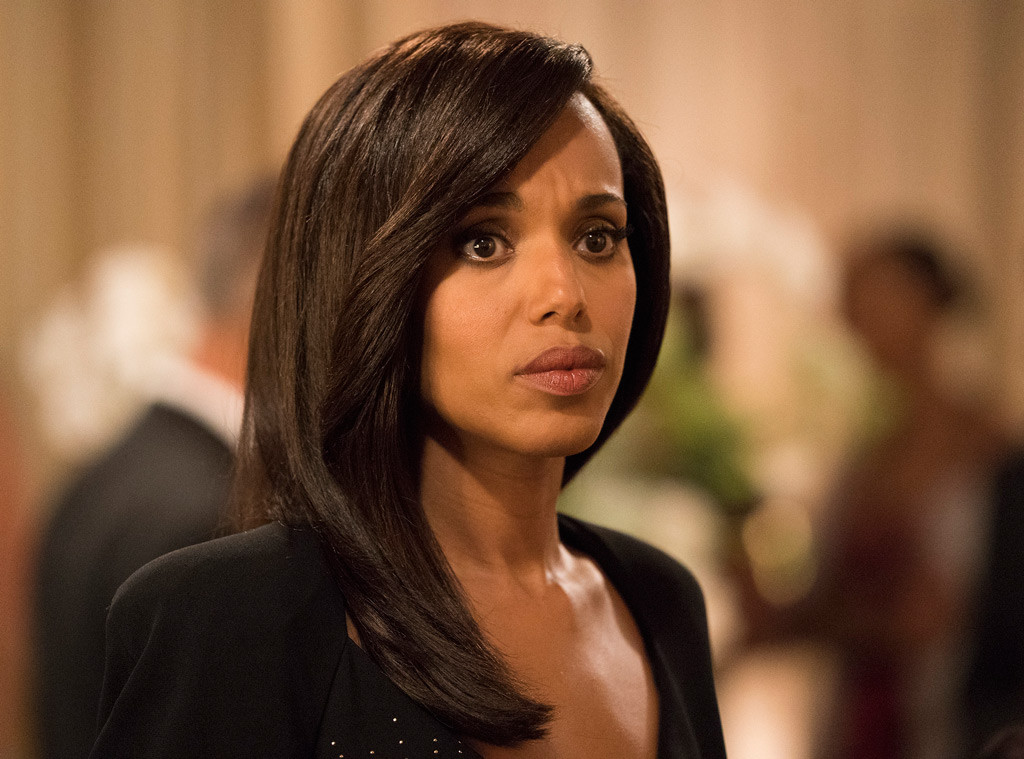 actress' hairstylist thought it fitting for the show to have Washington rock loose curls for most of the season.  As the show went on and 2 seasons passed, we saw more of a sleeker, shinier look.  The curl-less style took hold as season 2 and 3 drug on.  This style was much more fitting for the 30-something-year-old actress, playing a successful black woman who owned a professional crisis management firm.
But the star is also known for rocking her au natural locks on-screen in Save the Last Dance and Django (By the way, which was graced by the presence of Jamie Foxx).  In a recent interview with Sophisticate's Black HairMagazine Washington's hairstylist of 11 years opened up about her current hair regimen.
SBH:  How do you maintain Kerry's natural hair?

TSD: I wash and condition and trim it every six weeks.  People tend to get caught up on length but you have to trim the hair to keep those split ends off and to allow new hair to grow and be healthy.
Washington also mentioned that she is a fan of the "all-in" weave option when it comes to African American hairstyles.  The actress uses this as a protective style to guard against the heat of the studio lights, blow-drying and curling irons that can often spell
death
to African American hair.
I have to be honest, I'm quite impressed. I've had nightmares myself, vowing that no one will be able to touch my hair if I ever become a celebrity.  It's amazing that although there are high demands for African American stars to fry, dye, and add lye to their changing looks, that actresses like Kerry Washington are able to maintain their hair, using
the weave
to their advantage. 
So, there's no "Scandal" here, Kerry Washington has made a practice of keeping her hair all-natural, despite the heavy
hair-stress
that actress's experience.  Although Olivia Pope's hairstyle evolves as the seasons continue, Kerry Washington maintains her mane and strives to keep her fabulously natural locks the same.
Olivia Pope rocks several African American hairstyles (with weave) on the hit TV show Scandal, which one do you like the most?
If you enjoyed "
No Scandal Here: Hair Care Tips Straight from 'Olivia Pope's' Hairstylist" drop a comment.
No Scandal Here: Hair Care Tips from Kerry Washingtons Hairstylist
first appeared on
Demetrion Ware
.