By MopTopMaven
Depending on your hair type, products that contain polymers or any other ingredient geared towards hold works best for hair that doesn't have a defined curl type. The polymers found in most of the curl creams and puddings on the market today create a light film over the hair that keeps the curls in place. What this means for you is; less frizz, more of a defined curl pattern, longer lasting style. Here are my product recommendations that meet the aforementioned criteria [These two products have consistently given me great definition, with a light hold]: 
Cantu Coconut Curling Cream
Personally I do not like polymers and anything chemical in my hair. So I choose to use products that DO NOT contain polymers or silicones.  Polymer and silicone based products put a coating on my hair and they keep my hair from receiving moisture. After a week or so, my hair ends up dry, frizzy and lifeless from using polymer based products. 
For the Best all out Curl Definition…This product wins "HANDS DOWN"!  KeraVada Creme Brule  It not only provides curl definition, it also helps my hair maintain moisture. So, my twistout last far longer. I like it mainly because it is polymer free and paraben free and silicone free.. It's my goal to avoid certain chemicals for me and my little ones!
Here are my 6 Steps to a perfect twistout hair style:
1.
Only take down your hair when it is completely dry. This is a big one! Taking down your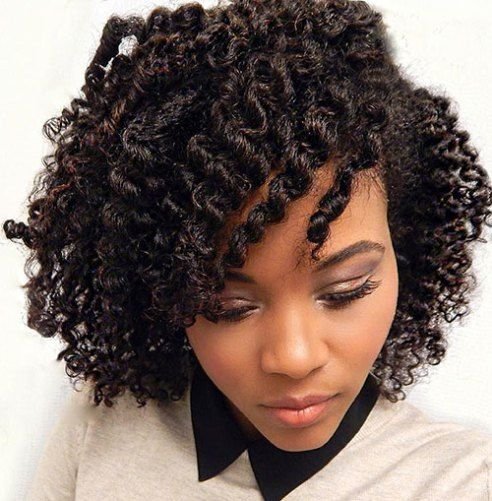 hair before it has a chance to thoroughly dry may cause excessive frizz and major lack of definition. This may not be so for those that have more of a defined curl pattern, but for curlies like myself; we need that extra time for the style to set.
2. "Smooth" your hair with a Denman brush before twisting. This makes all the difference in the final texture of my hair! My hair has more body and has a silkier appearance versus the times I skipped that step. To "smooth" your hair, simply detangle well and brush each section several times with your Denman before applying your styling cream.
3. A little bit of product goes a long way!  I find it so important to the final outcome of your style.  Try using a dime size of curl cream per section of hair you twist!
4. Want to enhance your curls? Sit under a hard bonnet dryer for about 20-30 minutes prior to removing your twists. You should notice silky, springier coils that lasts a lot longer than your  normal twist out.
5.
To create tons of volume, separate each twist as you take them down. The more you separate, the more volume you will have. To preserve the curl pattern and prevent frizz, use a light oil. My oil of choice is
KeraVada Super Ego
.
6.  For even more volume, lightly blow-dry the roots of your hair using the concentrator attachment. To add volume using a hair dryer, gently grab the hair 2 inches away from the roots, and pull hair in a light stretching motion while focusing the concentrator attachment near the roots of your hair.
What are your tips for perfecting your twist out? Any products you can't live without?

The post
6 Steps to the Perfect Twist out Hairstyle
first appeared on
Demetrion Ware
.